BY GLENN BILLINGHAM
For Liverpool fans, excitement and expectation are at their highest in the middle of a decade. For followers of West Ham, the peaks and troughs of hope and despair are far more frequent.
Currently, the red half of Merseyside, and many a neutral, are in the midst of 'Kloppmania', all swept up in the positivity of genuine hope. In the nineties, it was the collected flair and fervour of the 'Spice Boys' who heralded a genuine title challenge or two, and a cup final appearance. Ten years later, the half-way point of the 'noughties' brought the appointment of Rafa Benitez, that night in Istanbul and another cup final appearance. This one was also won by in dramatic fashion.
In the same thirty year span, West Ham have narrowly missed out on a Premier League top four finish, suffered two relegations, enjoyed two promotions, adventured into Europe three times, and been led by eleven different managers.
On 13th May 2006, the two clubs came together for the one hundred and twenty-fifth FA Cup Final, and it was a belter.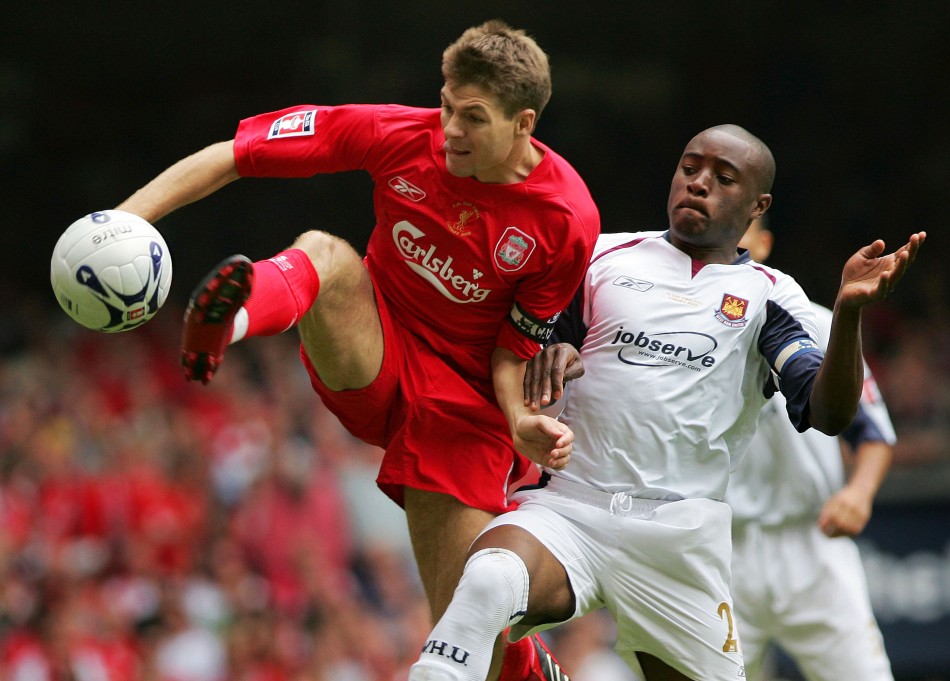 Gerrard and Reo-Coker, the days' captains tussle. Image from here.
Having achieved an impressive top ten finish in their first season back in the top-flight, West Ham were also a club on an upward trajectory in the early summer of 2006. Alan Pardew had assembled a fruitful balance of experience and youth, combining the know-how of Shaka Hislop, Teddy Sheringham and Lionel Scaloni, with the likes of Anton Ferdinand, Dean Ashton and Paul Konchesky providing the fresh faces.
The 2006 FA Cup Final is widely remembered as the 'Gerrard final', and with good reason. At twenty-six years of age, Gerrard was in his swashbuckling prime. The final represented Liverpool's sixty-second match of the season, and in bagging an impressive brace, Gerrard virtually dragged his weary teammates to victory single-handedly; a noteworthy feat considering the Liverpool team that day included Xabi Alonso, Jamie Carragher, Dietmar Hamann, and an energetic front pairing of Peter Crouch and Djibril Cisse.
Despite West Ham's ferocious start to the match, the last cup final played in Cardiff, Liverpool were masters of their own first half downfall. After twenty-one minutes, Jamie Carragher turned a Lionel Scaloni cross into his own net to break the deadlock. Less than ten minutes later, the Hammers doubled their advantage courtesy of a Pepe Reina fumble and the quick reactions of Dean Ashton.
The unfortunate Jamie Carragher. Image from 

here

.
 
After a Peter Crouch goal was ruled offside, Liverpool fans would have been forgiven for thinking it wasn't meant to be. Yet their next attack heralded a goal from the controversial Djibril Cisse, and another comeback was on the cards.
Ten minutes after the interval, the comeback was complete. John Arne-Riise embarked upon a typically driving run from left-full back, and was bought down by West Ham captain, Nigel Reo-Coker. The resulting free-kick, played short before being clipped into the box, was nodded down by Peter Crouch and volleyed high into the net by Steve Gerrard.
Running against the 'Gerrard final' script, yet following the pattern of an outrageously open game, Paul Konchesky was the unlikely man who put West Ham into an unlikely 3-2 lead ten minutes later. After some neat footwork by Matthew Etherington, Konchesky marched down the left flank and clipped a high, looping ball towards Reina's goal. Delivered with pace, the ball caught Reina exposed as it sailed over the Spaniard and into the top corner.
With Marlon Harewood taking the ball to the corner flags as early as the seventy eighth minute, West Ham were holding on without being severely troubled. Steven Gerrard, and a number of other players, were cramping up. With three minutes remaining, and West Ham heading for a glorious 3-2 victory, Gerrard blasted a promising looking free-kick high and wide. Liverpool heads dropped. West Ham elated.
In the first minute of injury time, Cisse was the latest player to drop with cramp. West Ham obliged to put the ball out of play, and Cisse left the field. Dietmar Hamann returned the ball to Lionel Scaloni but the Argentinian's hoof up field, indicative of energy levels, went only as far as John-Arne Risse. A speculative looped cross was cleared by Anton Ferdinand, and fully thirty-five yards from goal, Gerrard summoned the collective strength of Merseyside, and swung a right foot. The unstoppable half-volley was nestling in the expanse of Shaka Hislop's net in an instant.
Steven Gerrard makes it 3-3 in the 91st minute. Image from

here

.
Even after Liverpool's equaliser, a beautiful game of football was free-flowing and end to end for another four minutes. Paul Konchesky fired a free-kick straight at Reina, Jan Kronkamp ran the length of the pitch to cross for Fernando Morientes, and Teddy Sheringham was half a yard from a clear volley at goal.
Extra-time produced more cramp than clear-cut chances, and a penalty shoot-out ensued.
Pepe Reina, signed by Benitez in July 2005, had quickly displaced Jerzey Dudek, the hero of Istanbul, as Liverpool's number one. Reina had broken Premier League records for consecutive clean sheets and won his first Spanish cap in the 2005/06 campaign, and though he was arguably at fault for two of West Ham's goals, Reina excelled himself in the penalty shoot-out, saving two and guessing right on all four West Ham spot-kicks. Only Sheringham scored for the Hammers, while Hamann, Gerrard, and Risse all converted to give Liverpool their seventh FA Cup final win.
Having finalised his first full season with that miraculous night in Istanbul, Rafa Benitez and Liverpool had genuine momentum. The 2006 FA Cup win closed the curtain on Benitez's second season; a campaign in which the Reds finished just a point behind Premier League runners-up, Manchester United, and claimed third spot for a second successive year. Chelsea claimed top-spot, and the second league title of Mourinho's first stint at Stamford Bridge.
Thumbs up! Gerrard and Rafa Benitez, who was two years into a promising Liverpool career. Image from

here

.
 
As Liverpool had already qualified for the Champions League via their league position, the UEFA Cup spot usually afforded to the FA Cup winners went to West Ham. While Liverpool maintained their positive momentum, the same couldn't be said of West Ham. 2006/07 saw the Hammers knocked out of the UEFA Cup at the first hurdle by Palermo. Domestically, Alan Pardew took the club on their worst run of defeats in seventy years, and was inevitably sacked in December 2006.
[youtube https://www.youtube.com/watch?v=4fsfT5jmcbE]
YOU CAN FOLLOW GLENN ON TWITTER @glennbills AND CHECK OUT HIS BLOG HERE www.glennbillingham.com
To buy the shirts form this game, click the Classic Football Shirts logo below and use the discount code CFSAW10 to get 10% off at the checkout.